Medicine provides a unique opportunity to address the physical needs of people and also share the life-giving truth of the gospel. Corban's pre-professional Health Science degree will prepare you to bring hope and health to people in any setting. Whether you serve in a developing country, share your skills on short-term mission trips, practice in your own community or engage in medical research, you can make a difference in the world for Jesus Christ.
Corban's Health Science program prepares you to excel in a variety of medical careers with cutting-edge coursework and real world experience. Instead of just learning theory, you'll see firsthand how medicine makes a difference through internships and job shadowing with expert medical staff in local hospitals. After graduation, our students pursue careers such as:
Doctor
Nurse
Physician's Assistant
Dentist
Pharmacist
Physical Therapist
Occupational Therapist
Optometrist
Veterinarian
Medical Missionary
Clinical Researcher
Graduates of Corban have been accepted to leading graduate schools and our alumni are working around the world, using their health science careers to make a difference for Christ.
During your time as a Corban student, you'll also have the opportunity to provide healthcare internationally. In remote villages in Haiti, you will work alongside physicians and nurses to serve, love and care for some of the neediest people in the world.
Keep current with the latest developments in the fast-paced and ever-changing field of health science with Corban's outstanding academics. Some of the topics you'll study include:
Advanced Physiology
Anatomy
Biochemistry
Cell & Molecular Biology
Genetics
Issues in Health Science
Medical Microbiology
Focused MCAT Prep
In collaboration with Kaplan, Inc., we prepare our students for the medical school entrance exam through a focused MCAT preparatory course. You'll be able to approach the exam with confidence and move on to the next phase of your medical career.
Relevant Research
Research carried out in the Health Science department covers a range of scientific and medically-relevant topics. This research is funded by external foundations, alumni and business stakeholders, and university grants. Students present their research at Corban University's Annual Science Symposium and at other conferences in the Pacific Northwest.
This is the highest scholarship awarded by the Health Science program, designed for students who have a passion for science and helping others through health care.
As a confirmation of Corban University's dedication to these future health care providers, we have reserved two merit scholarships for students enrolled in the Health Science degree who have high academic standing and desire to serve those with the greatest medical needs by pursuing a career in the medical field.
up to $72K $16K - $18K/yr
Benefits and Expectations
Individual mentoring with faculty and physicians
Hands-on medical internships in local hospitals
Medical mission trips to Haiti
Annual Science Symposium Participation
Transfer and currently-enrolled students are not eligible. Annual award amount will be $1,000 more than the academic scholarship for which the student qualifies, up to $18,000, or a minimum of $16,000. Replaces all other academic scholarships. Renewable for four years.
Feb. 1 - Application deadline
March 1 - Finalists notified
Maintain 3.0 GPA overall and 3.25 in the Health Science major
Continuous enrollment in Health Science major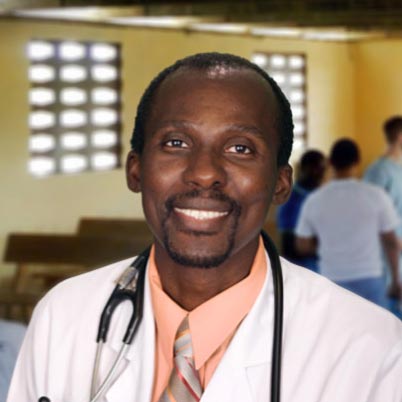 Dr. Guesly Dessieux is a family physician who is also a native of Haiti. Practicing in the United States allows Dr. Dessieux the freedom to pursue his passion to lead medical missions to Haiti and around the world. Each year he takes Corban students to Haiti to serve by providing free medical clinics. Corban faculty and students along with health care professionals participate in this life-changing experience.