Spiritual Life
At Corban, students are encouraged to invest in their spiritual development by utilizing the opportunities offered around campus to align their hearts with God.
Chapel
Vision: For members of Corban University to stand together as one community dedicated to the LORD, to hear and respond to His word to us
In Nehemiah 8:1-8 (NKJV) the people of God gather "as one man" (8:1) in the open square to hear and respond to the word of the LORD: "and the people stood in their place. So they read distinctly from the book, in the Law of God; and they gave the sense, and helped them to understand the reading" (8:7-8). Corban's vision for chapel places a similar priority on the gathering together of the community to occupy a shared place dedicated to hearing and responding to the LORD. Each member, whether student, staff, faculty, administrator, or chapel guest, is a valued participant in the process of hearing, understanding, and responding to what God is teaching us.
Part of Corban's character as a Christian university is reflected and communicated in its chapel program. Chapel provides a recurring and reliable time in the rhythm of campus life for all members to pause and join together for worship. Chapel takes place every Monday, Wednesday, and Friday from 10:00-10:50 a.m. Leadership of the chapel program is provided by the chapel committee, which consists of the: President, Provost, Vice President for Student Life, Chapel Coordinator, and representatives from the students, faculty, and staff.
Purpose: To create time and space for the Corban community to grow together spiritually through:
Goals:
corporately worshipping God
hearing the testimonies and scholarship of the Corban community and its members
learning from Christian leaders from a variety of fields
cultivating awareness of local and global service opportunities
responding to what the Lord is saying to the community through all of the above practices
Chapel Schedule Features for 2013-2014:
Hearing the Stories Among Us – a series of chapels throughout the year dedicated to hearing the stories of God's work in the lives of various Corban students, faculty, staff, and administrators
Special emphases – consecutive chapels that emphasize a common theme, topic, or discipline; a number of special emphases will be held during the year
Local and global Christian leaders from a variety of fields
ASB and other student-led chapels
Worshipping through song, prayer, and Scripture reading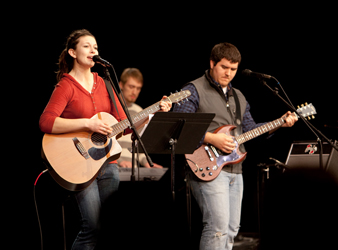 Reach
Corban's desire is to infuse students both with knowledge and a passion to serve. As we train students to use their minds powerfully, they are challenged to use their hands willingly. You will have an opportunity to partner with various organizations in the Salem area in at least two of these areas:
Hunger & Housing
Education & Literacy
Justice & Dignity
Creation Care
Some examples of organizations you may work with are Union Gospel Mission, Habitat for Humanity, SMART, Salem Family Literacy Center, Oregon Right to Life, Family Building Blocks, Salem Friends of Felines, and Turtle Ridge Wildlife Center.

Valerie Geer
Interim Director of Reach
vgeer@corban.edu
503-375-7010, x2188
Office hours: M–F 9:30 to 3 p.m.
Schimmel Hall, Room 215
Missions
As a Corban student, you'll have multiple opportunities each year to share the love of Jesus in other countries! Corban mission trips take place on every livable continent. 85 percent of Corban students take a mission trip during their college career. Corban has sent student-led missions teams into the world since our establishment and is eager to see the vision and passion that you might bring.
Other Worship Opportunities
Opportunities for spiritual growth are available in all shapes and sizes. Enjoy a night of worship, attend a weekend retreat or participate in service projects. Corban's prayer chapel is available for quiet reflection.