The Corban Promise
Are you...
Concerned about the cost of college?
Anxious about repaying student loans?
Uncertain about what career you will choose or how much you will earn?
Considering a career in public service?
We can help. We promise.

Corban University is so confident in the value of our education we are now guaranteeing that student debt will not stand in the way of our graduate's successful future.
"It's every college student's dream to land a meaningful job after graduation, one that utilizes their strengths and education. Repaying student loans adds significant pressure, and we want to provide our students and families with peace of mind. The Corban Promise will help ensure that our graduates are able to pursue their call."

Dr. Sheldon C. Nord
President, Corban University
How does The Corban Promise help?
"A week before freshman orientation I pulled out of Corban completely, and I enrolled in community college. It was a decision I made on my own because I am paying for my education--not my parents. Shortly after I called Corban with my decision, my core group advisor told me about The Corban Promise. This program is the only reason I am at Corban now. It made it financially feasible for me to attend Corban, and I am so grateful for that."

— Vileka Fisher
The Corban Promise acts as a "safety-net" that helps ease the burden of educational loans. Our loan repayment initiative empowers our students to attend Corban, a university dedicated to their success and their ability to make a difference in the world for Jesus Christ.
This loan repayment initiative is based on the popular and successful programs that Yale Law School and other leading schools use to help their students cope with loan debt and enable them to commit to public service after graduation.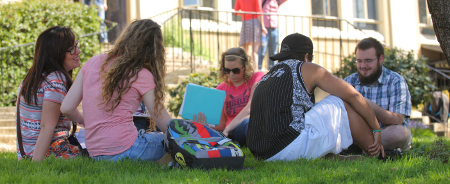 How does The Corban Promise work?
Beginning in the fall of 2014, all new undergraduate students starting their education at Corban University are eligible for The Corban Promise. This includes all incoming first time Freshmen, as well as transfer students who have at least two years of study remaining. New students do not need to complete any additional paperwork. If students have loans, they will be automatically eligible and enrolled.
In order to benefit from The Corban Promise, students must attend and graduate from Corban University. After graduation, students must work at least 30 hours a week to receive assistance. Incomes below $37,000 (the upper threshold) will qualify for assistance. Assistance increases proportionately as income decreases. Incomes below $20,000 (the lower threshold) will be eligible for 100% reimbursement. Assistance continues until the loans are repaid or income increases above the upper income threshold.
The Corban Promise covers all student loans including:
Federal Student Loans
Private alternative student loans
Parent PLUS loans
Corban University works with the LRAP Association to provide the The Corban Promise program to eligible students. The University pays the necessary fees to enroll eligible students. The program itself is under the oversight of the LRAP Association. Corban must adhere to the rules, guidelines, and conditions established by the LRAP Association.
Hear more about The Corban Promise.
"The Corban Promise gave me the confidence to pursue ministry. It's intimidating to face the oncoming challenge of supporting a family, yet fill a role and pursue a job that you can be passionate about. With this assurance, it's easier to move forward."

— Landon Hattan