International Students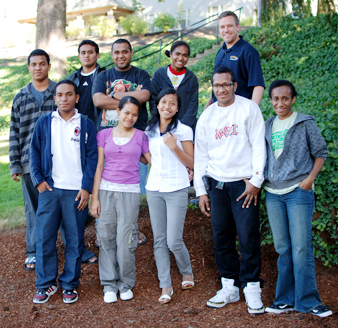 Corban University is seeking Christian students who value a comprehensive Christian education and meet college admissions criteria. Corban welcomes your application, and we will carefully review it, along with each of your references, transcripts, and test scores. We are committed to a policy of non-discrimination with regard to race, color, national origin, sex, age, or disability.
An international student is one who will be attending a college or university in the United States without residency or citizenship, typically on an F-1 visa. Note: If you are a citizen of the United States or Canada, you may not need to complete the International Student Application. If you are unsure, please contact the Corban Admission Office at 1.800.845.3005 or admissions@corban.edu.
Student Support
New students are introduced to American culture through a fall orientation as well as a series of cultural discussions throughout the semester. Each new international student is placed with an American roommate to help make the adjustments needed to be successful for studying in America.
Hiking nearby Silver Creek Falls, exploring Oregon's capital city of Salem and carving pumpkins at a Harvest Party are just a few of the events that await you during your first semester at Corban. There are plenty of ways to get involved with other international students as well as community life in general here. World Outreach Week and the International Fair are just a couple of ways at Corban that we see what God is doing around the world. Some international students have even been known to go on mission trips to other countries!
Questions? Please contact Jeff Benjamin in the International Student Support Office at jbenjamin@corban.edu.
How to Apply:
International students wishing to apply for admission must complete the following forms and submit it by mail.
Applications for fall semester must be submitted by April 1st and by October 1st for spring semester.
There is a $40 U.S. fee to apply. The application includes a general information section, six essay questions, two reference forms, all transcripts (high school and college), the scores of the TOEFL, SAT, or ACT test and a statement of financial responsibility.
Submit official transcripts from each secondary and post-secondary school attended. Transcripts in languages other than English must be accompanied by a certified English copy and an evaluation by World Education Services: www.WES.org.
If English is not your native language, submit your scores for the Test of English as a Foreign Language (TOEFL) to Corban. Corban requires a TOEFL score of at least 500 paper-based or 61 internet-based for admission. If you choose to take the SAT or ACT test instead of the TOEFL, the minimum score is 900 for the SAT, (critical reading plus math) or 19 composite score for the ACT.
TOEFL Information:
1.800.GO.TOEFL (1.800.868.6335) or 1.609.771.7100
toefl@ets.org
P.O. Box 6152
Princeton, NJ 08541
USA
Submit a photocopy of your passport with your application for admission.
For more information or to request the proper application forms please contact:
Sarah Ernst
International & Transfer Counselor
sernst@corban.edu
1.800.845.3005 x2152
Financial Aid
Corban requires all international students to provide certification of adequate financial support. An Immigration and Naturalization Services I-20 will not be released until you have been accepted for admission, paid the $1,000 deposit and have submitted the completed Statement of Financial Responsibility. The $1,000 deposit is due by May 1 for fall semester and December 1 for spring semester. After the deposit deadlines pass, only a $700 refund is available if you do not enroll at Corban.
International students automatically qualify for a grant of $7,000. Students who take the SAT or ACT may be eligible for an academic scholarship based on their scores and their high school GPA. Qualifying students would be eligible for both the academic scholarship and the $7,000 grant.
Some other possible scholarship and grant opportunities include:
Christian Worker Dependent Grant ($1,000)
Additional Financial Aid Information for International Students: www.edupass.org