Study Abroad
Do you want to gain hands-on experience outside of the classroom? Would you enjoy a new cultural and educational experience? Corban University works with 16 study-abroad programs that can help you expand your college experience. You can study with and learn from knowledgeable professors at Oxford University, or learn how to incorporate Christian values in the film industry in Los Angeles, or even gain exposure to real-life journalism through a summer program. At Corban, you aren't limited to Salem; you have an opportunity to see the world!
Take advantage of Corban's extension campus located in the heart of Bavaria — beautiful Amberg, Germany. Here you will dive into the culture and history of the "Great Awakening" of the Christian church and trace its German origins. Live in one of the many housing options and experience the German/European culture first-hand.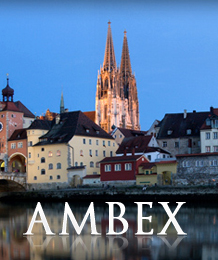 Study Tours
Corban students have the opportunity to participate in several study tours during their college experience. Here are a couple examples:
England, Scotland and Ireland
Travel to lands of Lords, Ladies, Lilliputians, Leprechauns, Loch Ness, Legends and Lore! Professors Sam Baker, Kent Kersey, and Colette Tennant will be leading a trip to England, Scotland and Ireland from May 9th to May 24th, 2011. We will study history, religious history, art and literature in London, Glastonbury, Oxford, Stratford-on-Avon, Edinburgh and Dublin. We will be staying at least three nights at almost every stop. The trip will be offered as credit or noncredit and is for current students as well as alums (and friends).
Israel & Egypt
Corban students and alumni have the opportunity to follow the footsteps of Moses and Jesus and explore ancient biblical sites where some of the greatest events in human history have taken and will take place. We go to Egypt, land of the Pharaohs to see the famous Giza Pyramids and Sphinx, the ancient capitals of Memphis and Luxor, the storied Valley of the Kings and more. We then travel to Sinai to climb the mountain where God gave the Ten Commandments. In Israel we experience sites like the Dead Sea, Caesarea where Peter preached the gospel to Cornelius, Old Testament Hazor and Dan, the Sea of Galilee where Jesus preached, healed the sick and calmed the storm. We also journey up to Jerusalem, the heart of Israel's past, present and future. Come and make lifelong memories. As an added bonus, Corban students may register for the three-unit Land of the Bible course. This class will prepare you to more fully understand and appreciate all that we will see and experience in the Holy Land.
CCCU Programs
The Council for Christian Colleges & Universities (CCCU), an association of 107 campuses in the U.S. and Canada, offers the following semester and summer programs to students of its member institutions. The programs offer a unique opportunity for students to make the world their classroom, going beyond the confines of the traditional classroom. These interdisciplinary learning opportunities are available to second-semester sophomores, juniors and seniors. For further information, contact either your Off Campus Programs Coordinator or the CCCU.
Within the United States:
Around the world:
Other Travel/Study Opportunities:
BUNAC
A non-profit organization that sponsors a number of work/travel programs to destinations around the world.