Honors Program

The Honors Program provides highly motivated students with academic enrichment above and beyond the regular undergraduate curriculum, encouraging a more proficient understanding of and appreciation for the biblical worldview through the lens of classical studies, especially literature, philosophy and the arts.
Honors students are given the opportunity to interact with distinguished scholars at special events, participate in at least three Honors courses while at Corban, and work with a faculty member on a senior project.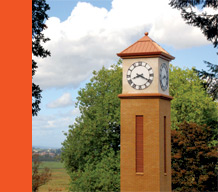 In addition to intellectual enrichment, Honors Program students also benefit in the following ways:
Participating students receive a $150 scholarship each semester.
Student transcripts will reflect membership in the Honors Program.
Graduating seniors who successfully meet all requirements and complete the four-year program receive a medallion to be worn at the commencement ceremony.
Participation in the program signifies a measure of academic commitment and breadth often sought by employers and valued highly by graduate schools.