At Corban, students are encouraged to invest in their spiritual development by utilizing the opportunities offered around campus to align their hearts with God.
Chapel
The Corban community is welcome to attend chapel at 10am every Monday, Wednesday and Friday. Chapel provides students the chance to gather with faculty and staff for a time of worship and reflection on God's Word. Chapel provides an opportunity for the entire campus community to come together three times a week for a time of worship, teaching, reflection and growth.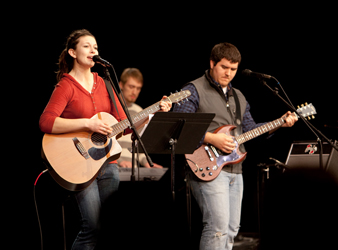 Reach
Corban's desire is to infuse students both with knowledge and a passion to serve. As we train students to use their minds powerfully, they are challenged to use their hands willingly. You will have an opportunity to partner with various organizations in the Salem area in at least two of these areas:
Hunger & Housing
Education & Literacy
Justice & Dignity
Creation Care
Some examples of organizations you may work with are Union Gospel Mission, Habitat for Humanity, SMART, Salem Family Literacy Center, Oregon Right to Life, Family Building Blocks, Salem Friends of Felines, and Turtle Ridge Wildlife Center.

Lori Schilling
Director of Reach
lschilling@corban.edu
503-375-7010, x2188
Office hours: M–F 8 to 5 p.m.
Schimmel Hall, Room 216
Missions
As a Corban student, you'll have multiple opportunities each year to share the love of Jesus in other countries! Corban mission trips take place on every livable continent. 85 percent of Corban students take a mission trip during their college career. Corban has sent student-led missions teams into the world since our establishment and is eager to see the vision and passion that you might bring.
Other Worship Opportunities
Opportunities for spiritual growth are available in all shapes and sizes. Enjoy a night of worship, attend a weekend retreat or participate in service projects. Corban's prayer chapel is available for quiet reflection.