Varsity Athletics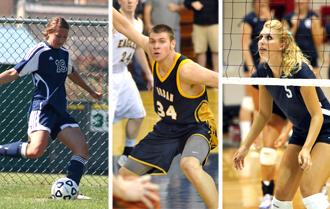 Corban University Athletics is committed to fielding teams of Christian student athletes who represent Christ and the University at a top level of competition.
Athletics at Corban exists to integrate and enhance the mission of the University. Personal growth is emphasized and enhanced by combining spiritual truth with athletic and academic achievement. Coaches actively recruit student-athletes who are committed to developing Christ-like character through discipline, teamwork, competition, and ministry. It is a primary goal that all our young men and women display that character and attitude toward opponents, spectators, officials and the community. Student-athletes at Corban can expect to be challenged, instructed, encouraged and mentored in the process of growing and living life for the glory of Jesus Christ.
As a member of the Cascade Collegiate Conference (CCC), Corban is affiliated with the National Association of Intercollegiate Athletics (NAIA) and the National Christian College Athletic Association (NCCAA), Corban Athletics stands in a pivotal place in today's pervasive world of sports. While it seems the very foundations of our society are being eroded morally, we seek to be one who is, "among them who would build up the wall and stand in the gap on behalf of the land" Ezekiel 22:30. Through its people, principles, programs and biblical perspective, Corban Athletics seeks to play an ever-increasing role in impacting the ethos of our contemporary sports culture.
Corban has 6 NCCAA national championships under its belt, in addition to 13 conference titles since all Warrior sports joined the CCC in 1994. Other Conference members include: Concordia University, The College of Idaho, Eastern Oregon University, The Evergreen State College, Northwest University, Northwest Christian University, Oregon Institute of Technology, Southern Oregon University, and Warner Pacific College.
Being a Warrior at Corban University is truly an outstanding academic, physical, and spiritual education.
Corban University offers 13 intercollegiate sports, 6 for men and 7 for women.
Learn more at gowarriorsgo.com.
Intramural Sports
Several intramural sports are offered throughout the year, including soccer, football, volleyball, basketball, dodge ball, badminton, pickle ball and ping pong.
The Intramural Department at Corban University is designed to provide opportunities for participation in a wide variety of sports and activities such as; individual sports and team sports, and competitive and recreational. Our goals consist of three keys we hope everyone is able to experience: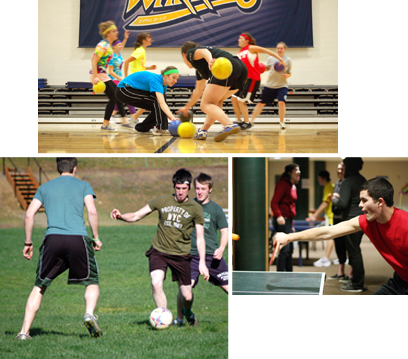 Christian fellowship- Provide an opportunity for Christian interaction through organized sports and activities. As well as providing a feeling of teamwork and group spirit in various activities.
Participation- to provide various opportunities for maximum student involvement, as well as allow opportunities for participation from alumni, faculty, and staff.
Fitness and special interest- to provide opportunities to develop and maintain a healthy body and mind. Also to spend leisure time in organized sports and activities.
The purpose of the Intramural Department is to use recreational activity "to educate Christians who will make a difference in the world for Jesus Christ."